Editorial Essay
References
Abram, David. The Spell of the Sensuous: Perception and Language in a More-Than-Human World. 1996. Vintage Books, 1997.
Barber, Katherine, editor. The Canadian Oxford Dictionary. Oxford UP, 1998.
Brunson, Wesley. Personal Correspondence. 2 Apr. 2017.
Federici, Silvia. Caliban and the Witch: Women, the Body and Primitive Accumulation. Autonomedia, 2004.
Fuentes, Carlos. "Remember the Future." The Literary Imagination and the Sense of the Past, special issue of Salmagundi, no. 68/69, 1985, pp. 333–352.
Jaworski, Sophia. Personal Correspondence. 16 Jun. 2022.
Lavin, Madeleine. Personal Correspondence. 1 Apr. 2017.
Povinelli, Elizabeth A. Geontologies: A Requiem to Late Liberalism. Duke UP, 2016.
Scott, Dayna Nadine. Email Correspondence. 17 Apr. 2018.
Silko, Leslie Marmon. "Yellow Woman." Storyteller, 1981, edited by Leslie Marmon Silko, Penguin, 2012, pp. 52–60.
Tuck, Eve. "Suspending Damage: A Letter to Communities." Harvard Educational Review, vol. 79, no. 3, 2009, pp. 409–427.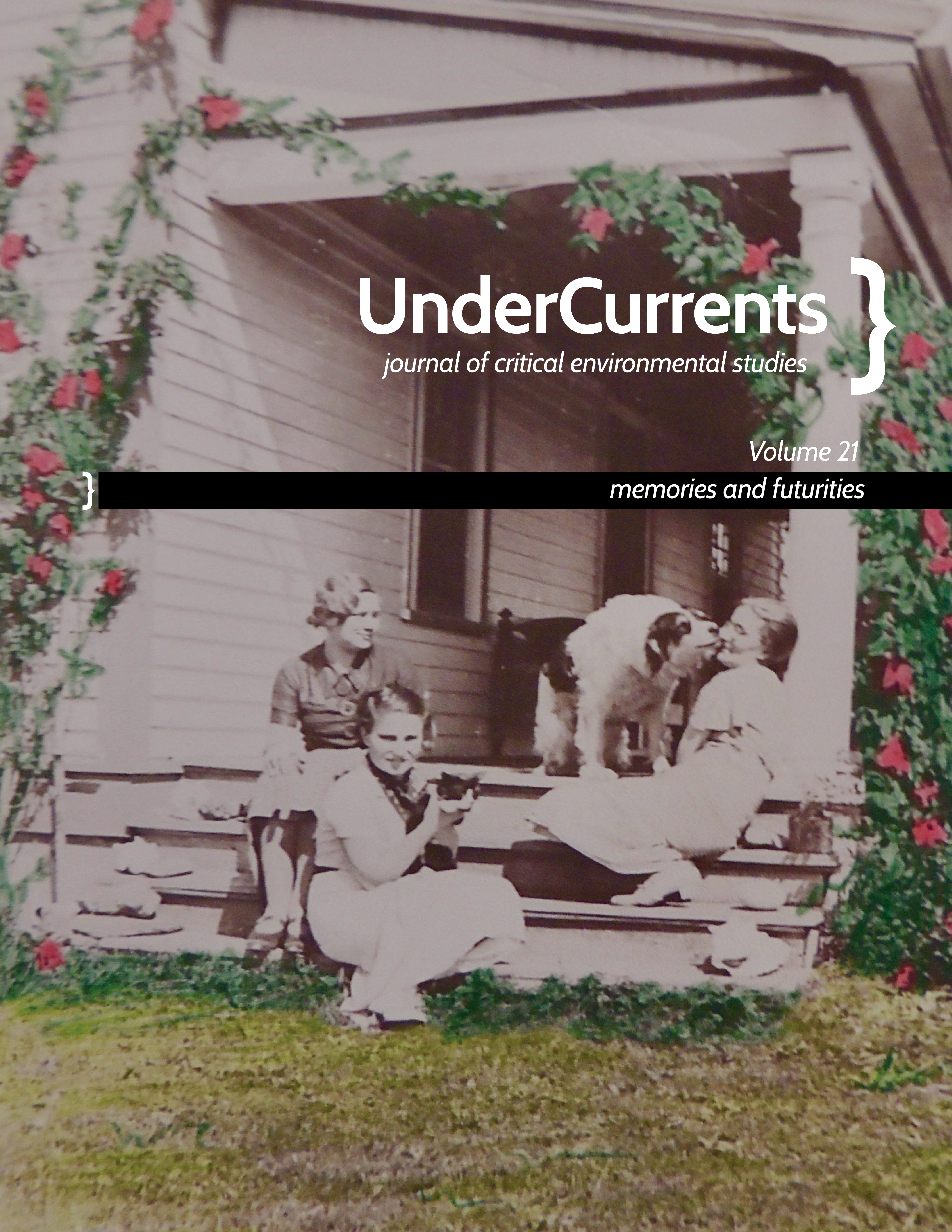 Downloads
How to Cite
Collective, E. (2022). Editorial Essay. UnderCurrents: Journal of Critical Environmental Studies, 21, 2–3. https://doi.org/10.25071/2292-4736/40342
License
Copyright (c) 2022 Benjamin J. Kapron for the UnderCurrents Editorial Collective
This work is licensed under a Creative Commons Attribution 4.0 International License.
Authors retain copyright over their work and license their work for publication in UnderCurrents under a Creative Commons Attribution 4.0 International License (CC BY 4.0). This means that the work is available for commercial and non-commercial use, reproduction, and adaptation provided that the original authors are credited and the original publication in this journal is cited, following standard academic practice.