Ruminations on a "fisherman's path"
Land as palimpsest
Abstract
This piece looks at the layered history of a "fisherman's  [sic] path" that traverses my property in Grey County and makes its way to the Saugeen River. I am exploring the idea of land as (historical) palimpsest. My sources are: David Gibson's surveyor field notes (1848); an archaeological report about a "point" (ancient spearhead) found along the river (1984); and my own recollections of the path and its environs. I am explore how different 'periods' and 'peoples' collide and layer and erupt as the land surrounding the "fisherman's path" goes through natural and "man-made" changes. A temporal linearity of history gets jumbled and reassembled in interesting ways.
References
Appiah, Kwame Anthony, and Henry Louis Gates, Jr., editors. The Dictionary of Global Culture. Random House, 1996.
Barber, Katherine, editor. The Canadian Oxford Dictionary. Oxford UP, 1998.
Daniel, Dominique, and Amalia Levi, editors. Identity Palimpsests: Archiving Ethnicity in the U.S. and Canada. Litwin, 2014.
Gibson, David. Field Notes of the East Part of the Durham Road. Toronto Archives, 180972-2, 1848.
Gray, Barry. Archaeological Survey: Glenelg and Artemesia Townships, Grey County, Ontario. May to September, 1984. South Grey Museum and Historical Library, Archival Collection, 1989, accession number 2014.004.235, file Glenelg/Artemesia Survey Report 1984.
Gunn, Peter. Naples: A Palimpsest. Chapman and Hall, 1961.
Hubbert, Mildred Young, editor. Split Rail Country: A History of Artemesia Township. Stan Brown, 1986.
Marsh, E.L. A History of the County of Grey. Fleming, 1931.
Norquay, Naomi. "An Accidental Archive of the Old Durham Road: Reclaiming a Black Pioneer Settlement." Archivaria, vol. 81, 2016, pp. 1–22.
Norquay, Naomi, and Pariss Garramone. "The Old Durham Road Black Pioneer Settlement: Contested Place as an Invitation to Curriculum." Journal of the Canadian Association for Curriculum Studies, vol. 13, no. 2, 2016, pp. 20–31.
Thomas, Alfred. Prague Palimpsest: Writing, Memory, and the City. University of Chicago Press, 2010.
Willinsky, John. Learning to Divide the World: Education at Empire's End. University of Minnesota Press, 1998.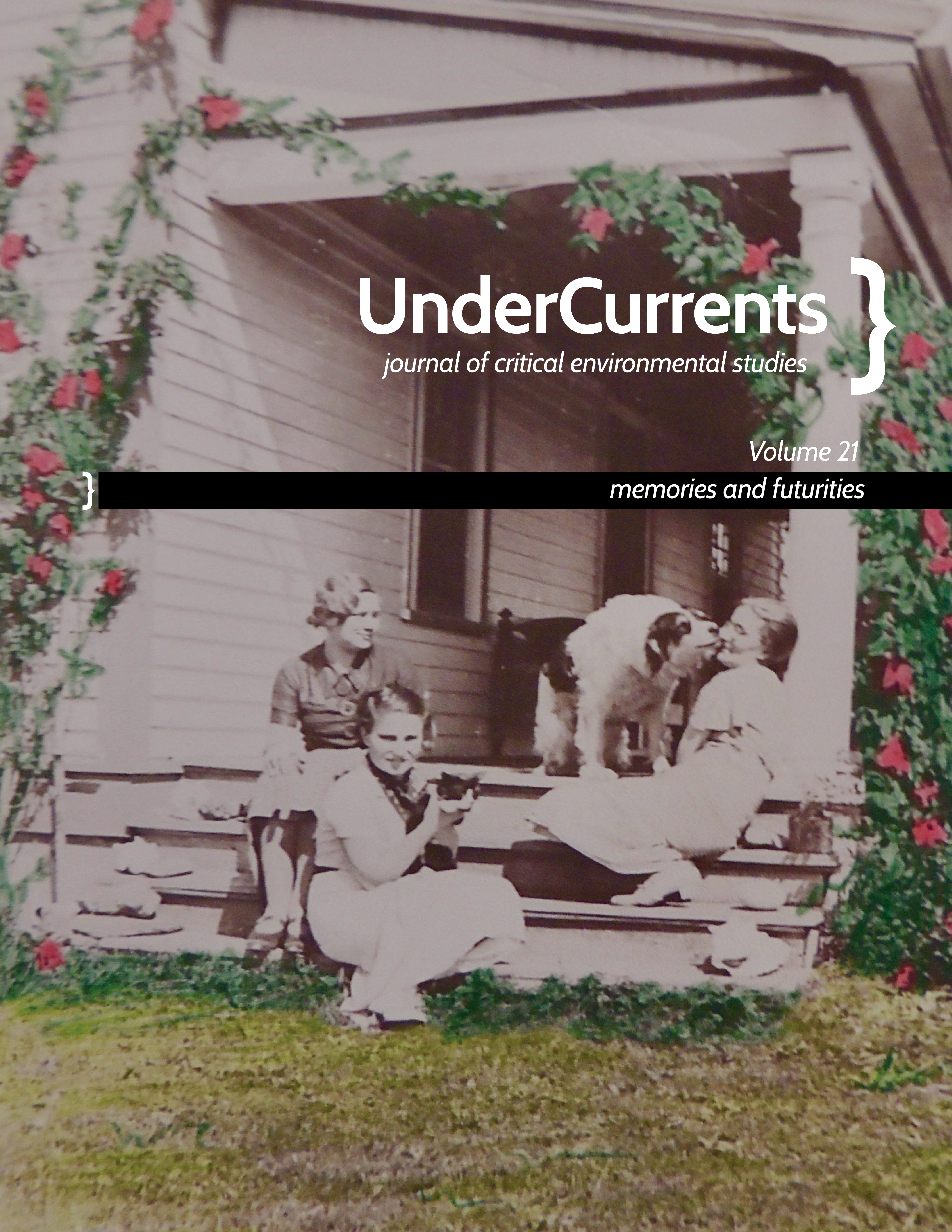 Downloads
How to Cite
Norquay, N. (2022). Ruminations on a "fisherman's path": Land as palimpsest. UnderCurrents: Journal of Critical Environmental Studies, 21, 4–7. https://doi.org/10.25071/2292-4736/40318
License
Copyright (c) 2022 UnderCurrents: Journal of Critical Environmental Studies
This work is licensed under a Creative Commons Attribution 4.0 International License.
Authors retain copyright over their work and license their work for publication in UnderCurrents under a Creative Commons Attribution 4.0 International License (CC BY 4.0). This means that the work is available for commercial and non-commercial use, reproduction, and adaptation provided that the original authors are credited and the original publication in this journal is cited, following standard academic practice.