From the River to the Sea: Israel, Palestine, and Queer/Feminist Ecologies
Keywords:
Israel, Palestine, Ecofeminism, Queer Theory
Abstract
This paper seeks to provide an ecofeminist and queer critique of Israeli aggression towards and occupation of Palestine in three parts. Firstly, providing a critical analysis of tropes surrounding the creation of the Israel including early policies relating to land and afforestation.  Secondly, by revealing how these tropes about the founding of Israel expose racist understandings about the supposed nature of Palestinians and Arabs (as backwards, queered and so on) and Thirdly, how these projections in the two previous sections about Israeli ingenuity and the supposed natural inferiority of Palestinians and Arabs informs current ecological mal/development in Israel and Palestine.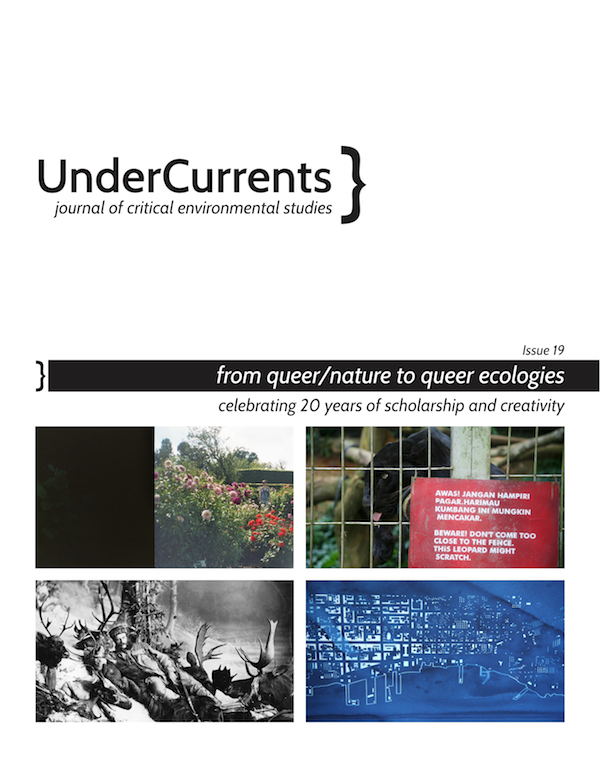 Downloads
How to Cite
Goldsmith, M. (2015). From the River to the Sea: Israel, Palestine, and Queer/Feminist Ecologies. UnderCurrents: Journal of Critical Environmental Studies, 19, 17–26. https://doi.org/10.25071/2292-4736/40251
License
Authors retain copyright over their work and license their work for publication in UnderCurrents under a Creative Commons Attribution 4.0 International License (CC BY 4.0). This means that the work is available for commercial and non-commercial use, reproduction, and adaptation provided that the original authors are credited and the original publication in this journal is cited, following standard academic practice.