Lot Eight / Lote Ocho
Keywords:
extraction, mining injustice, colonization, spoken word, poetry,
Abstract
This piece was submitted as a spoken-word poem. A recording can be found on UnderCurrents' SoundCloud: https://soundcloud.com/undercurrentsatyork/lot-eight-lote-ocho
Special thanks to Ruben Esguerra, audio engineer on the recording.

[Author's Note - Content warning: this poem discusses sexual, gendered, and other forms of violence.]

Dedicated to the women of Lot 8 who are fighting like hell for justice not only on their land in Guatemala, but who have brought their historic fight into Canadian courts as well...


Find full piece in .pdf below.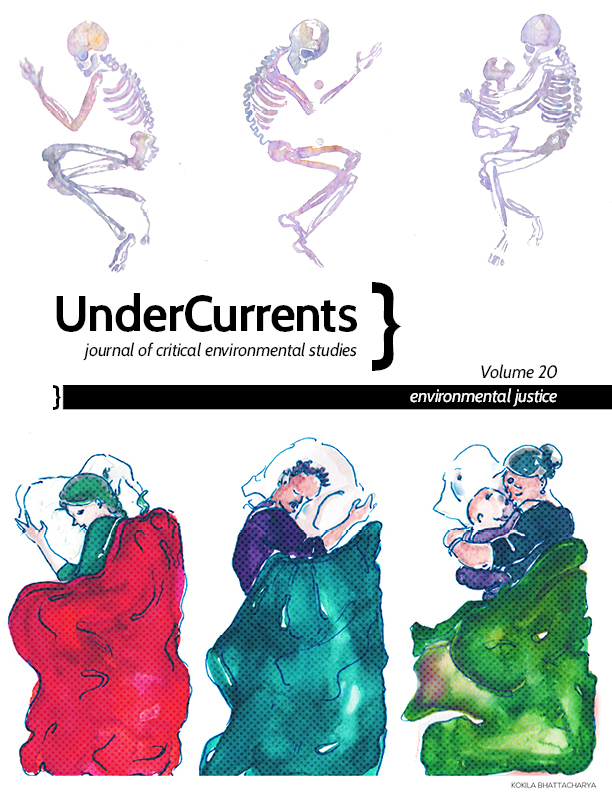 Downloads
How to Cite
Small, R. (2017). Lot Eight / Lote Ocho. UnderCurrents: Journal of Critical Environmental Studies, 20, 32–35. https://doi.org/10.25071/2292-4736/39973
License
Authors retain copyright over their work and license their work for publication in UnderCurrents under a Creative Commons Attribution 4.0 International License (CC BY 4.0). This means that the work is available for commercial and non-commercial use, reproduction, and adaptation provided that the original authors are credited and the original publication in this journal is cited, following standard academic practice.