Solidarity in Struggle: 32 years on... From Bhopal, India to Kanawha Valley, USA
Keywords:
Bhopal, environmental justice, Kanawha Valley, toxic waste, solidarity
Abstract
With artwork by Kokila Bhattacharya 

A message to the people of Bhopal: We are writing you from the shadow of the Union Carbide plant at Institute, West Virginia. We are residents, professors, and college students who oppose MIC (methyl isocyanate) production in our community. Like you, we are people who need industry for jobs, and for the products that make our lives better. Like you, we now know that safety and health come first. May our common concern bond your community and ours for many years to come.

- Estella Chandler, People Concerned About MIC (now called People Concerned About Chemical Safety), August 18th, 1985 (Chemical Valley)...


Find full text in .pdf below.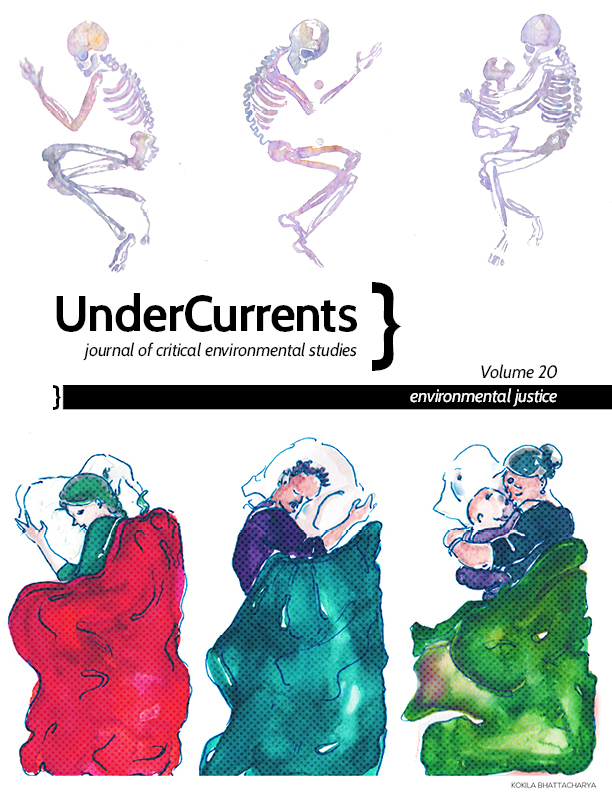 Downloads
How to Cite
Nye, M., & Shadaan, R. (2017). Solidarity in Struggle: 32 years on. From Bhopal, India to Kanawha Valley, USA. UnderCurrents: Journal of Critical Environmental Studies, 20, 4–13. Retrieved from https://currents.journals.yorku.ca/index.php/currents/article/view/39809