Hacking It; Laying New Pipe; & Clearing The Ground
Abstract
HACKING IT
cast iron pipe sawed straight through,
blisters rising from the small hacksaw
rushing to meet its end, singing,
with you with you with you with you...
LAYING NEW PIPE
Where turds bob up with clogs
of toilet paper and Tampax,
mint trees & flowers thrive,
the line was cracked by roots.
One hundred year old terra cotta pipe,
a young Bay tree broke her way through.
We lay ten foot lengths black plastic tube,
glue the joints, cross the stream, on out...
CLEARING THE GROUND
Clearing the ground,
Frantically working the gears,
Grabbing handles,
pulling levers,
billows of dust...
O MAN, dragged over the land
Behind a machine!!
Tearing freeways, cracking sidewalks,
Universities, libraries...whole worlds
Of consciousness plowed back to seed.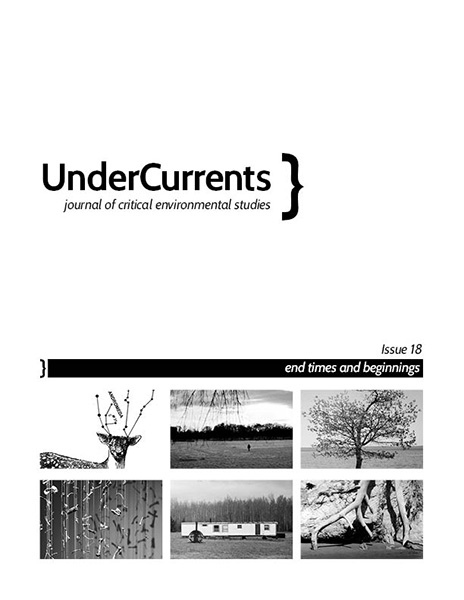 How to Cite
Weishaus, J. (2014). Hacking It; Laying New Pipe; & Clearing The Ground. UnderCurrents: Journal of Critical Environmental Studies, 18. Retrieved from https://currents.journals.yorku.ca/index.php/currents/article/view/38663