Contributors
Abstract
Omer Aijazi is a PhD candidate in the Department of Educational Studies, University of British Columbia. His research examines place based, community led micro processes of social repair after natural disasters. His research destabilizes dominant narratives of humanitarian response and disaster recovery and offers an alternate dialogue based on structural change.

Jessica Marion Barr is a Toronto artist, educator, and PhD candidate in Cultural Studies at Queen's University. Her interdisciplinary practice includes installation, found-object assemblage, drawing, painting, collage, and poetry, focusing on forging links between visual art, elegy, ecology, ethics, and sustainability. "In October 2013, Jessica curated and exhibited work in Indicator, an independent project for Toronto's Nuit Blanche.

Gary Barwin is a poet, fiction writer, composer, visual artist, and performer. His music and writing have been published, performed, and broadcast in Canada, the US, and elsewhere. He received a PhD in Music Composition from SUNY at Buffalo and holds three degrees from York University: a B.F.A. in music, a B.A. in English, and a B.Ed.

O.J. Cade is a PhD candidate in science communication at the University of Otago, New Zealand. In her spare time she writes speculative fiction, and her short stories and poems can be found in places like Strange Horizons, Cosmos Magazine, and Abyss and Apex. Her first book, Trading Rosemary, was published in January of 2014 by Masque Books.

Kayla Flinn is a recent graduate from the Masters in Environmental Studies program, with a Diploma in Environmental and Sustainable Education from York University. Originally from Nova Scotia, Kayla is both an artist and athlete, spending majority of her time either surfing or trying to reconnect people to nature/animals through art she produces.

Frank Frances is a playwright, poet, music programmer, artistic director, community arts and social justice activist, former jazz club owner, and believer of dreams of a greater humanity. Frank majored in English, creative writing, post colonial literature and theory, drama and theatre, and is a graduate of York University.

Sarah Nolan is a PhD candidate at the University of Nevada, Reno, where she studies twentieth and twenty-first century American poetry. Her dissertation considers developing conceptions of ecopoetics and how those ideas contribute to poetry that is not often recognized as environmental.

Darren Patrick is an ecologically minded queer who lives in a city. He is also a PhD candidate in the Faculty of Environmental Studies at York University in Toronto, Ontario.

Portia Priegert is a writer and visual artist based in Kelowna, B.C. She completed her MFA in Creative Writing at UBC Okanagan in 2012, with funding from the Social Sciences and Humanities Research Council of Canada.

Elana Santana is a recent graduate of the Masters in Environment Studies program at York University. Her research focuses on the intersections of feminist, queer, posthumanist studies and the environment. Her academic work informs her creative pursuits a great deal, particularly in her attempts to photograph the non-human world in all its agential glory.

Conrad Scott is a PhD candidate in the University of Alberta's Department of English and Film Studies. His project examines the interconnection between place, culture, and literature in a study of dystopia in contemporary North American eco-apocalyptic fiction.

Joel Weishaus has published books, book reviews, essays, poems, art and literary critiques. He is presently Artist-in-Residence at Pacifica Graduate Institute, Carpinteria, CA. Much of his work is archived on the Internet: http://www.cddc.vt.edu/host/weishaus/index.htm

Michael Young is presently the University and Schools advisor for Operation Wallacea Canada, a branch of a UK based biodiversity research organization. He is a recent graduate of the Masters in Environmental Studies program at York University (MES), where his culminating portfolio examined apocalyptic narratives and popular environmental discourse. He is presently in the process of developing an original television pilot, which he began writing as a part of his master's portfolio.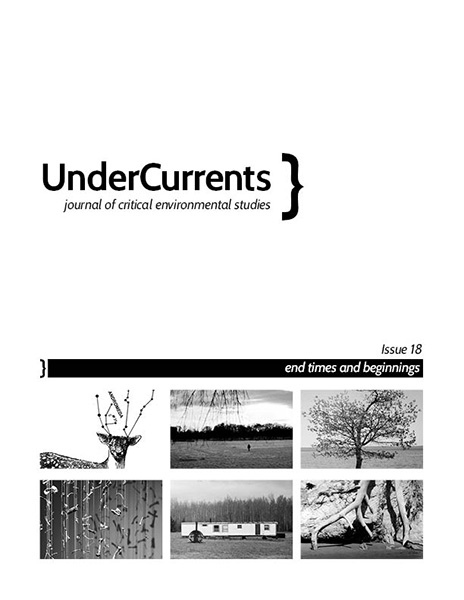 How to Cite
Editorial Collective, U. (2014). Contributors. UnderCurrents: Journal of Critical Environmental Studies, 18, 60. Retrieved from https://currents.journals.yorku.ca/index.php/currents/article/view/38554
Section
Notes on Contributors