City Farmer: Adventures in Urban Food Growing
Abstract
City Farmer: Adventures in Urban Food Growing.
By LORRAINE JOHNSON. D. & M. Publishers Inc., 2010. $19.95
Reviewed by Michael Classens
While the title of Lorraine Johnson's most recent book may seem like a disjointed juxtaposition, an ill-conceived utopian fantasy, or both, it is only fleetingly so. Despite the considerable and colliding pathologies of the contemporary food system—adequately summarized in the book— |Johnson forcefully argues that small-scale 'city farmers' are the vanguard of an emerging transformation of the contemporary food system. True, in the aggregate, city farming remains more prefigurative than productive, however Johnson's choice to see the socio-political and ecological benefits of small scale food production is itself an affirmative political maneuver. She's acutely aware of the formidability of re-inscribing the contemporary food system with more just and sustainable attributes, but also understands that starting in the here-and-now is perhaps the only rational choice in the face of such a challenge.

Given that ours is an increasingly urbanized world, the 'here' is more often than not an apartment balcony, a neighbourhood park, a building rooftop, a front yard, or a back alley. These are the interstitial—and not inconsequentially, un-commodified—spaces of the urban condition. Johnson's trick is to reveal the potential in these sometimes derelict, often unassuming spaces, while she concomitantly urges us to re-imagine our own relationship to them. We are all urban farmers, she assures us, and the city is our fertile, however discontiguous, field.

Part 'how to' manual, part philosophical tract, and part urban adventure travel log, City Farmer reads like a contemporary reorientation guide to our cities-as-farms. And like many good mash-up genres, the strength of this book is in its breadth. Johnson takes us on an extensive urban-ag tour and introduces us to urbanites-cum-farmers tilling everything from yards, balcony containers, and community garden plots, to the less conventional back alley parking spaces, underground bunkers, and even floating barges. Along the way, she punctuates these real-world stops with conceptual and instructional vignettes providing everything from step-by-step briefs on how to start a community garden and how to build a compost bin, to lists of plants that thrive in low-light conditions and instructions detailing how to make wine and jelly from foraged urban edibles.

While not the explicit focus of the book, issues of urban policy provide an inevitable backdrop to Johnson's exploration. Of course policy in the neoliberal city cleaves toward that which best facilitates the circulation and accumulation of capital, tending to favour the spectacle of high-rise condo developments and gentrification over designations of land use for non-commercial, nano-scale farming. Through the realm of urban policy, then, local production of food is brought into conversation with the global forces of commercial real estate development and transnational circuits of capital.  

While Johnson only sparsely addresses this confrontation head on, the tension flows throughout the book. Her critique of neoliberal urbanism is rarely more incisive on this front than in her treatment of the contradictory posture urban policymakers tend to take in response to urban foraging, guerrilla gardening in neglected urban spaces, and back-yard chicken raising. These are the frontiers of urban food production, propelled in effect (though not necessarily in spirit) by self-reliant individuals. But if self-reliance really is what drives neoliberal policy, then why aren't governments enabling urban food production? If neoliberal efficiency is predicated on deregulation and less government, then why are city governments so heavily regulating the front and back yards of taxpayers?

This is not to suggest that Johnson pursues these lines of argument to their often reactionary ends. She comes nowhere close to defending the frighteningly de rigueur sentiment of contemporary conservatism. On the contrary, she positions the ongoing regulatory resistance to forms of extra-legal urban agriculture as a way to expose the disconnect between the rhetoric and actual practice of neoliberalism. Every time a permit to grow food on a neglected parcel of land is denied, private ownership, individualism, and speculative land investment are reified as the operatics of urban governance. Here Johnson steers us toward a corollary—that urban agriculture can indeed confront the many tendencies of neoliberal capitalism.

Transforming the contemporary food system and fundamentally altering the ways our cities are organized is, as Johnson readily admits, hefty weight for a radish, tomato plant, or box of home-grown lettuce to carry. Yet her careful documentation of the dozens of projects, policy initiatives, organizations, and individuals tirelessly working at the intersection of social transformation and urban food growing, somehow stunts the audacity of the symbolic weight she bestows upon the spoils of urban agriculture.  If Paul Robbins is right, and manicured lawns (along with their considerable political economy) have played a crucial role in inscribing the modern (sub)urban cultural subject, Johnson reveals the possibility of something altogether different. It's not just a material transformation of the neglected, marginal, or simply ignored urban sites with the potential to act as micro-farms that Johnson is calling for. Instead she asks that we think about the kinds of social and cultural change farming cities would demand of us, and dares us to consider what kind of subjects we'd become if, those among us that are able to, got our hands a little dirty.

Work Cited

Robbins, Paul. Lawn People: How Grasses, Weeds, and Chemicals Make Us Who We Are. Philadelphia: Temple University Press, 2007. Print

~

MICHAEL CLASSENS is a PhD Candidate in the Faculty of Environmental Studies at York University. His work deals mostly with the political ecology of food and agriculture, and figuring out why his Swiss chard keeps dying.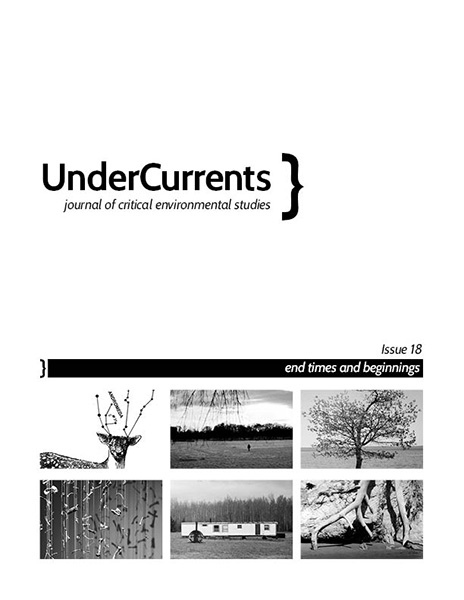 How to Cite
Classens, M. (2014). City Farmer: Adventures in Urban Food Growing. UnderCurrents: Journal of Critical Environmental Studies, 18, 53–54. Retrieved from https://currents.journals.yorku.ca/index.php/currents/article/view/38548