Climate Change - Who's Carrying the Burden?
Abstract
Climate Change - Who's Carrying the Burden?
Edited by ANDERS SANDBERG and TOR SANDBERG. Canadian Centre for Policy Alternatives, 2010. $35.00

Reviewed by Miranda Baksh

Chilly Climates - Who's Carrying the Burden? is a collection of eighteen intriguing narratives on current global environmental issues, written by activists, scholars, and professionals from diverse disciplinary backgrounds. Ranging from the Green Party's Elizabeth May to York University professor Anders Sandberg, the array of perspectives presented enables the reader to analyse environmental issues from various angles. This allows the audience to use these perspectives to help sculpt and broaden their own personal opinion. Global environmental dilemmas are highlighted, which not only broadens the reader's understanding of climate change concerns but both sparks their curiosity and allows them to question the issues further.

The stories of those who most acutely suffer the effects of climate change are represented in the pages of this text through investigations of numerous environmental events that have occurred—particularly those that have taken place in marginalized communities — around the world. Contributors to this text highlight the stories of those who suffer the effects of climate change most profoundly, ensuring that the prolonged stresses with which they contend are uncovered and understood. Exemplary contributions include Sonja Killoran-McKibbin's description of an efficient citizen-based conference in Cochabamba, Bolivia; Tanya Gulliver's insights on the aftermath of Hurricane Katrina; and Tor Sandberg's interview with renowned environmentalist, Vandana Shiva, who discusses current issues in India related to the increased use of fossil fuels.

Other important concepts for students in environmental studies introduced in this text include environmental refugees, presented by Aaron Saad; reproductive justice, explored though Noel Sturgeon's ecocritique of the animated film Happy Feet; and the survival of Inuit populations, as explored by Jelena Vesic. Each contribution to this volume not only makes the reader aware of the appalling situations that people face around the world as a result of climate change, but also motivates the reader to think about climate change issues more critically, interrogating how they might be implicated in unjust practices. By providing examples of past environmental events as well as new approaches to tackling environmental concerns, the writing in this text encourages readers to look for solutions and to educate others about climate change and environmental justice issues.

This book offers an alternative to the conventional belief that climate change is an issue we will only face in the distant future. Instead, the papers in this text argue that climate change is an existing problem and that its consequences are irreversible. The urgency, seriousness, and international implications of climate change are made clear in this text as the authors collectively argue that we need to shift our thinking to include both solution centred approaches and preventative measures to deal with the dire consequences of the planet's changing climate. In addition, previous failures in addressing environmental concerns are illustrated, such as the unsuccessful United Nations conference in Copenhagen (COP15). Accordingly, the reader is exposed to the inadequate process by which global environmental issues are frequently dealt with, and the unwillingness of the parties who are primarily responsible to take meaningful action.

This collection of critical writing not only informs and enlightens the reader, but is also inspirational. Chilly Climates - Who's Carrying the Burden? makes evident that climate change is truly a global phenomenon, and that we are entering a time of global inequity. Each contribution to this compilation presents a unique approach to climate change research where readers are encouraged to appreciate the diversity of each bias, as they are derived from personal experiences of the authors. This book is recommended for students, educators, and citizens who wish to explore alternative perspectives on climate change, which do not lose sight of its victims.

~

MIRANDA BAKSH is an undergraduate student at York University in the Faculty of Environmental Studies. She is focusing her studies in the Environmental Management stream of her program, and also has a broad range of interests in French Studies, Dance, and Biology.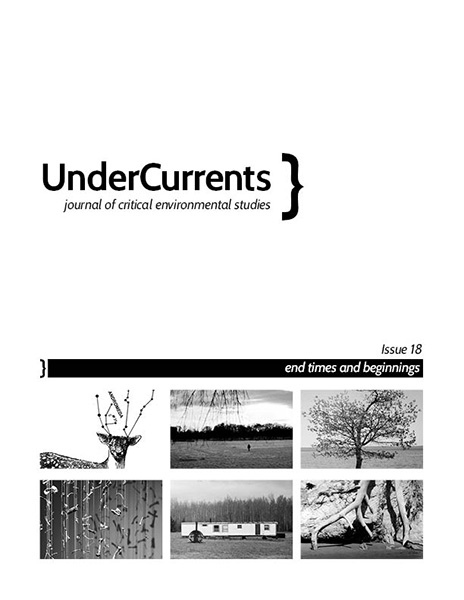 How to Cite
Baksh, M. (2014). Climate Change - Who's Carrying the Burden?. UnderCurrents: Journal of Critical Environmental Studies, 18, 52–53. Retrieved from https://currents.journals.yorku.ca/index.php/currents/article/view/38547