Witnessing the Wasteland: Sight, Sound and Response in Edith Sitwell's "Three Poems of the Atomic Age."; Meeting in the Meadow; & The Twins
Abstract
The place where the scientific meets the poetic underwent a transformation when atomic bombs were used against Hiroshima and Nagasaki in August of 1945. Primed to images of apocalypse and destruction by the 1922 publication of T.S. Eliot's "The Waste Land," poets found themselves in a position where life imitated art. Like their fellow citizens, poets were witness to a scientific revolution—one that began with Rutherford splitting the atom and ended with a more efficient and competent slaughter than anything previously experienced. Lehmann comments that "the war, in the end, found its voices in the work of many poets and novelists; but the peace, the victory, the defeat, the bewilderment in defeat and the heart-breaking disappointment in victory, the apocalyptic manifestation of atomic power—the poets seemed too long to have been too dazed to think of them" (30). His one exception is Edith Sitwell who confronted the atom bomb in her "Three Poems of the Atomic Age" (Collected Poems 368-378): for Sitwell built a narrative about the bombing—not so much a narrative of events, but of understanding, as she confronted the moral consequences of this new capacity for destruction. Sitwell's "Three Poems" include "Dirge of the New Sunrise," which describes the moment the atomic bomb was dropped upon Hiroshima; "The Canticle of the Rose," which uses the symbolism of a rose growing out of the atomic wasteland as a metaphor for Jesus Christ; and "The Shadow of Cain," which Sitwell describes as being "about the fission of the world into warring particles, destroying and self-destructive" (Collected Poems xlii).
....
THE TWINS. Elana Santana.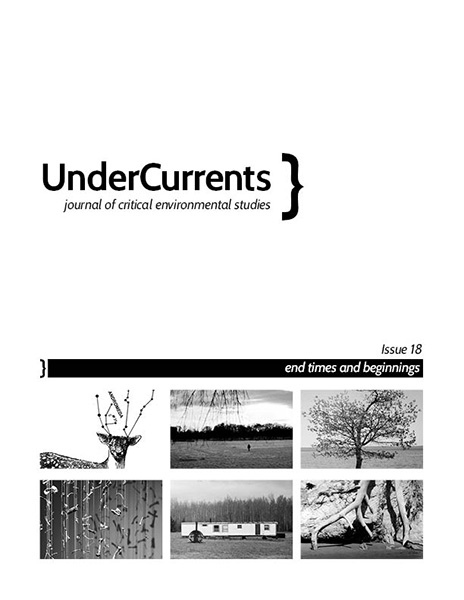 Downloads
How to Cite
Cade, O. J., & Santana, E. (2014). Witnessing the Wasteland: Sight, Sound and Response in Edith Sitwell's "Three Poems of the Atomic Age."; Meeting in the Meadow; & The Twins. UnderCurrents: Journal of Critical Environmental Studies, 18, 18–24. https://doi.org/10.25071/2292-4736/38540
Section
Academic-Creative Compilations
License
Copyright (c) 2014 O. J. Cade, Elana Santana
This work is licensed under a Creative Commons Attribution 4.0 International License.
Authors retain copyright over their work and license their work for publication in UnderCurrents under a Creative Commons Attribution 4.0 International License (CC BY 4.0). This means that the work is available for commercial and non-commercial use, reproduction, and adaptation provided that the original authors are credited and the original publication in this journal is cited, following standard academic practice.